Why Your Next Date Should Include Massages and Facials With Your Guy
The couple that skin-CARES together stays together! If you're planning your next date, you might be thinking of a romantic candle-lit dinner. Maybe you're leaning towards something more fun like bowling or laser tag. We're here to tell you that you should skip on both those dates! If this guy is the one, you should spend your next date with massages and facial peels, and here's why.
We all want to look good, and why wouldn't you want your guy to look good as well! Rather than dressing up for your next date, you get to shed all of those layers. If you want your skin and your beau's skin to look good now, in ten years, and maybe even 50 years, you're going to need these five products.
Start With a Scrub
It's getting hot in here already! Your date should start off with a warm bath paired with the Jericho Peeling Scrub Sheer Goddess. Meant to be paired with warm water, you and your guy could turn this skincare product into a sensual massage. The Dead Sea minerals and gentle beads will help scrub off all the dead skin and leave your body smooth to the touch!
Try a Facial Peel
While the peeling scrub might take care of your body, you can't forget about the face! We're sure you both want beautiful skin that's going to stay young even when your age doesn't match that. You and your date can then move on to the Facial Peel. First, it will cleanse the skin of all impurities and lighten any scars you might have. Your face will feel fresh and ready to continue your night of skincare and romance.
Take Cute Selfies
In the middle of your night of romance, you should definitely take a picture of you and your date in a facial mask. You've probably seen those couples on your social media feed in bathrobes and masks, so why can't you be one of them! The perfect mask for your Snapchat story is the Jericho Facial Lifting Mask. While it will give you the perfect chance to capture a cute picture of your date, this mask has too many benefits to ignore! Not only will it help with any marks on your skin, but it will also help fight any wrinkles or signs of aging that might pop up in a few years.
Put on a Facial Mask
After the facial peel and mask, you and your date might need a bit of moisture. If you can't keep your hands off of each other, try buffing the Facial Pearl Mask into each other's skin. With ingredients like Chamomile extract and Shea butter, you can be sure this product will leave the skin feeling hydrated and smooth enough to kiss.
Try a Little Aromatherapy
Now that your sensual and romantic skincare regimen is over, you can move on to the fun! Whether you're settling in to watch a movie or enjoying a few treats in front of a warm fireplace, nothing will help set the mood more than Jericho's Aromatic Diffuser. The soft smell can help set and seal the mood for any night of romance!
Before you decide that you have to spend your next date night out at dinner, remember that the romance can happen at home! In between cooking your own dinner or watching a romantic comedy, you and your date can not only have a bit of romance, but you can also take care of each other with these facial peels and a much-appreciated massage.
Skin Care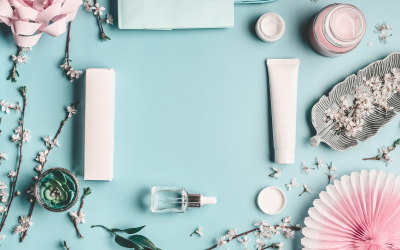 It's the season to… Multitask! While your holiday comes to a close, you can squeeze in some much-needed skincare while...