The Cult Craze of Hemp Infused Products
You've surely heard it from all over: hemp this, CBD that – suddenly, cannabis and hemp infuse products have become not only chic but quite ubiquitous. With the decimalization of marijuana and the growing research on the positive effects of CBD on the body and the mind, products that boast infusions of hemp are having an even bigger time in the sun than they did during their last heyday in the '90s! (Vintage is so chic, too.)
And never to be left out from the trends, the beauty industry has taken notice and taken hold and a whole cult of CBD has arisen around hemp inclusive products. What's really drawn so many new disciples to the order of the marijuana marketing is that fact that hemp and CBD are just individual components of the plant itself and, as such, do not contain any THC, which is the part that gets you high and what actually makes it a drug.
CBD (hemp), however, is a separate entity of the same whole that has blown up the beauty business thanks to its natural and in demand properties: specifically, its high amount of anti-bacterial, pain reducing, anti-aging, antioxidant and anti-inflammatory properties – you know, all the things everyone looks for in a good skincare or cosmetic product and all-natural, too!
That means influencers and consumers alike are flocking to the holy hemp for treating acne, for soothing muscle pain, for brightening and tightening the skin – and for just plain being the coolest beauty guru out there. Even further, CBD and hemp extractions have omega-3 and omega-6 fatty acids – those important fatty acids that moisturize the skin and protect it from damage from UV rays.
So just what can CBD and hemp be found in out there? Well, aside from oils and snacks a, yes, even dog treats (to help calm those stressed out babies during thunderstorms, fireworks, etc.), hemp infusions can be found in almost any beauty product you can think of: lotions and skin oils and face masks and lip balms – the list goes on and on.
When it comes to creams and lotions, especially, many people are flocking to it to ease their body pain. Rubbing on some CBD infused lotion not only hydrates the skin, but it takes it a step beyond basic skincare by relaxing the muscles and reducing both pain and inflammation. When we are as a society trying to be more conscious about the number of pills and rugs we put into our body, this all-natural and external option for pain relief is super sought after.
Taking the hydrating properties a step further, hemp is pretty much tailor made to be in a lip balm. Plant-based lip care is already a heavy hitter, so adding in a plant-based ingredient that is a born moisturizer makes these products extra moisturizing and perfect for dry winter days.
Likewise, CBD goes beyond basic moisturizing to include some collagen boosting properties, which makes hemp products a holy grail of sorts for those dreaded dark circles and dry skin spots under the eyes. It is less irritating than chemical-based products can be and will still give those same plumping effects.
Taking a deeper dive into hempseed oil specifically, it is so rich in vitamins and omegas that nourished skin craves. Using hemp seed oil on the skin all over makes it super soft and super smooth. The oil can also be used in the hair for sleek, shiny and hydrated locks.
And, speaking of hemp for your hair, it is worth noting hemp products are truly natural born conditioners for not only a head of hair, but also eyebrows (which are still totally having a moment in the beauty world) and eyelashes. Infused brow gels and mascara promote healthy growth and leave both lashes and brows looking – and actually growing in – shiny, thick and volumized.
Hemp is happening and CBD is super chic. It used to be that the mere mention of hemp-based products would conjure up mentions of the 'crunchy granola hippie' stereotype. But, thanks to a growing market, a lot more scientific research and a society becoming more lax on marijuana rules, hemp and CBD extracts are being found in more and more cosmetics, lotions and beauty products all over. Hemp infusions turn back time, soothe inflammation, relax away pain and attack redness and skin irritations and are available in a whole slew of items (including lotions, balms, oils, brow gels, under eye creams and more) – what more can be asked for in any cosmetic product?
Skin Care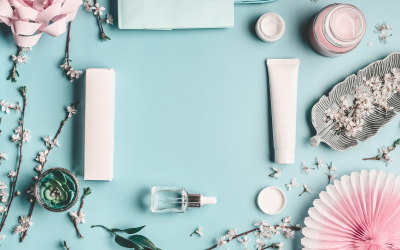 It's the season to… Multitask! While your holiday comes to a close, you can squeeze in some much-needed skincare while...