Do you have a hair problem that only a curling iron can solve? Not this summer! Whether you're rocking pin-straightlocks or kinky 4c curls, we're all tempted to put heat on our hair every once in a while. While it seems ridiculous to add styling heat on top of the summer weather, millions and millions of women still do it. Well, not anymore!
Styling your hair in the summer can be hot, tiring, and tedious. Not to mention, the humid weather might ruin it once you step outside! Instead of forcing yourself to sit in front of a mirror with astraightener or curling iron, check out these top summer hairstyles.
BRAIDS
When it's humid and over 90 degrees outside, the last thing you want to do is wear your hair down and in your face! You might not be willing to wear your hair completed up either! Instead, a compromise would be to wear your hair in a braid! These are quick, simple, and easy to do. If you want a bit of variety from the regular three-strand braid, try the trendy fishtail braid.
HEATLESS WAVES
Beach waves are in all summer '18, but who wants to spend time with a hot curling wand in their hand? We don't! Instead, all you have to do is put down the iron and turn on the water! The next time you step into the shower or wash your hair, this is the ideal time to form your beach waves.
After getting out of the shower, braid your hair into medium sized braids, tying each braid with a rubber band at the bottom. Allow your hair to dry while you sleep and you'll wake up with beautiful heatless waves.
HALO STYLE
If you're feeling a little regal, the halo braid might be your new favorite summer style. With this hairdo, you're able to get all of your hair out of your face while also looking like an absolute queen. You can even throw in a few clips or beads to make the style really stand out!
The summer sun has us all ready to break into a sweat, especially when we think about having to style our hair. Luckily for you, these hairstyles are going to keep you cool and fabulous all summer long.
Skin Care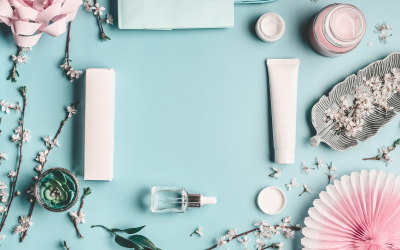 It's the season to… Multitask! While your holiday comes to a close, you can squeeze in some much-needed skincare while...