How Can we Get Glowing Skin at Home?
There's nothing quite like a healthy, radiant glow. It signifies to the world that we are in possession of some enviable healthy skin, a healthy beauty routine, and not only do we look darn good – we feel good, too! Glowing skin radiates a balance of moisturization, of freedom from toxins, and inner weightlessness. So how can you go about getting those glowing skin goals at home? We've curated some of the best tips and practices below.
Cleanse
One surefire way to dull your skin? Allow for a buildup of dead and dry skin cells on the surface. No matter how much work you put into your skincare routine, if there are deadened particles blocking over the top level, no glow is going to get through.
By cleansing and exfoliating, you not only remove those unwanted cells, but you also encourage healthy blood flow and circulation, which inherently glows you up. A cleanser, massaged into the face, will remove makeup, grime, and excess oil, giving you a clean slate for the exfoliation of unwanted buildup. Pro tip: Look for cleansers that have a gentle formulas, as they will be void of ingredients that would usually dry out your face, dulling your glow from step one.
Exfoliation
After cleansing your glow into reality, you will want to slough off the bad skin and reveal the smooth skin below. Healthy exfoliants, containing things such as apricot pits or natural sea salts, will scrub away the deadened skin and stimulate circulation.
Loofah 
When it comes to washing your body, choose a loofah over a washcloth every time. The net-like nature of a loofah catches and rubs away dead skin cells and also prevents those nasty bumps caused by ingrown hairs. Make sure you allow your loofah to dry out completely, though, so as not to promote bacteria growth.
Watch What You Eat
It seems inevitable that good things for the body almost always come back to healthy eating. A diet high in vegetables and low in sodium and dairy do wonder for the skin. Clean eating encourages cell growth and repair, reduces breakouts, and increases collagen production and healthy blood circulation.
Tea
Antioxidants, those free radical fighters, are essential to having healthy, lustrous skin and can actually be found in tea. Consider swapping out a morning coffee for a morning English Breakfast and let the glow grow!
Hydrate
We've said it before, and we'll repeat it – staying hydrated keeps your skin moisturized which keeps it healthy and proud.
Skin Care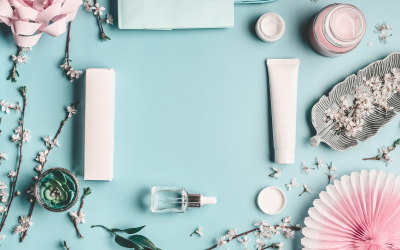 It's the season to… Multitask! While your holiday comes to a close, you can squeeze in some much-needed skincare while...