Spring Cleaning: What to Throw Away, Keep and Clean
Spring is in the air! With a quick look at the calendar, you might notice that the spring season is approaching. Take a step outside! Rather than watch the change, feel it!
The sun shines a bit warmer. Even the air feels different. We're saying goodbye to the cold, frigid winter and starting fresh – in more ways than one! The approach of spring means the coming of spring cleaning. Here's what you need to know to get yourself started!
Start With a Closet Purge
Out with the old, in with the new! This is a popular quote for a reason, and this should be your motto to live by for spring cleaning. Before you even think about cleaning and organizing your closet, makeup drawer, and beauty cabinet, you could probably use some downsizing.
When it comes to your closet, ask yourself if you'll really wear the item? If you have a sweater that you haven't worn in three years, toss it. If you bought a dress last year that you've yet to wear, it could definitely stay, but make an effort to wear it!
 Restock Your Cosmetics
When it comes to the items in your makeup drawer and beauty cabinet, check the expiration date! What many people fail to realize is that makeup definitely expires. They'll usually have a sign on the packaging saying that it's meant to last six months or a year.
If you're past the expiration date, dump it in the garbage and feel free to stock up on new products. While your beauty cabinet might look empty, it's nothing a few Jericho products can't fix! To keep your skin looking and feeling smooth as the temperatures rise, definitely go with the Smoothing Body Scrub Sheer Delicacy in Pure Lilac.
If you had to toss your old, but beloved mud masks away, the Active Mud Mask will definitely be a new favorite of yours. Now that you're organized and stocked, you're ready for the cleaning!
 Preserve What You Kept
If you're bringing your clothes out of storage, they might've been sitting around, collecting dust. Definitely, throw these in the washer! As for your makeup brushes, you really should be cleaning them regularly. If you don't, now would definitely be a good time!
Once you've decluttered, organized, and cleaned, you'll definitely feel lighter, and that's not the spring high talking! The spring season opens us up to a brighter sun, warm weather, and wonderfully long days. Make sure you start it right with your spring cleaning!
Skin Care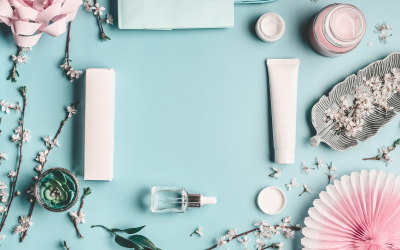 It's the season to… Multitask! While your holiday comes to a close, you can squeeze in some much-needed skincare while...