How to Treat Combination Skin
Combination skin is super common, and it happens when there is an increase in sebum in the T-zone area of the face or full dryness on the whole facial area. In other words, your skin can be dry or normal in some areas and oily in others.
What Are the Characteristics of Combination Skin?
Here's a quick and easy way to find out if you have combination skin.
Typically, the t-zone area (forehead, nose, and chin) can be a bit oily while your cheeks are dry.
During the summer your skin is oily and dry in the winter.
When your ovaries are shedding, your skin gets really oily, and you might experience breakouts. Once your menstral cycle is over your breakouts disappear, and your skin gets dull and flaky.
How to Take Care of Combination Skin
When it comes to treating combination skin, balance is essential to be effective. Spot your problem areas and take care of them accordingly. We know this isn't an easy task, but here's a basic skincare routine for your skin type.
Cleanser: Use either a water-based or gel cleanser. The Gentle Milk Cleanser from Jericho would be a perfect option due to it being a mild formula that leaves all types of skin feeling relaxed, uplifted and soft.
Hydrating Toner: This step is important to put in all those antioxidants your skin is missing. Jericho's Refreshing Skin Toner can do just that. A very soothing formula that is easy on the skin with added aloe vera and dead sea minerals. Allowing the skin to keep all the natural PH levels.
Moisturize: Applying the Moisturizing Day Cream from Jericho will help protect all skin types. You can use twice daily, packed with Argan oil this will keep your skin smooth.
Night Cream: Use a different method at night for moisture. A good option is the Jericho's Nourishing Night Cream which is made with natural Dead Sea minerals and Matrixyl Synthe'6. It has all the vitamins and minerals, you need for healthy skin, and it will help repair those damaged, dry patches.
In addition to developing a daily skincare routine based on your combination skin, take these steps every week for more glowing, hydrated skin.
Exfoliate: Exfoliating sheds the face of dead rough skin. For your combination skin, this step opens pores and allows moisture to penetrate your skin. Jericho's Foaming Facial Scrub is perfect to keep in your rotation since its rich in Dead Sea minerals, Vitamin C and Chamomile extract which helps maintain healthy moisture levels in the skin.
Treat: Weekly treat your skin to a mask like the Facial Sauna Mask from Jericho which contains Dead Sea minerals, plant extracts, Vitamins C, E and A, Seaweed extract, and Omega-3. This facial mask is great to work on your dry areas while also rejuvenating the rest of your skin.
Rejuvenate: It is important to protect the skin from environmental stressors, we recommend using a serum with anti-aging capabilities, but that also contain ingredients that revitalize your skin. Jericho's Antioxidant Mineral Serum is ideal for that!
By following these simple steps, you are on your way to a much smoother, softer and brighter skin. Be sure to keep up the routine for maximum and long-lasting effects. You can find the recommended products and much more at jerichocosmetics.com.
Skin Care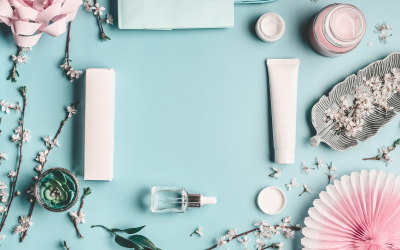 It's the season to… Multitask! While your holiday comes to a close, you can squeeze in some much-needed skincare while...