Fighting Skincare Fake News
In the world of #fakenews and alternative facts, everyone's wondering about the truth. When it comes to skincare, you'll find that there are TONS of fake news that you might fall victim to. A scary aspect about skincare is that you don't normally see the effects right away.
It might take years and yearsfor problems to develop. While your skin might appear beautiful and healthy today, there's a chance that your habits are slowly diminishing the quality of your skin, and this will greatly show when you're older. Read along as we fight some of the biggest skincare fake news headlines.
TANNING BOOTHS ARE COMPLETELY SAFE.
They surely ARE NOT. While getting some sun is healthy, everyone knows that lying out on the beach for hours is very detrimental to the skin. To avoid this, people hit the tanning booth for that bronze glow. UV rays, which come from the sun, are extremely dangerous, especially the UVA and UVB rays. The fact of the matter is, tanning boots are simply unable to tan your skin without exposing you to these rays that can lead to skin damage and even cancer.
For those looking for the tanned look without hitting the beach or the booth, try our iTan Tanning Maskwhich will leave your skin looking sun-kissed and tanned without those UVA/UVB rays.
SUNSCREEN IS ONLY FOR SUNNY DAYS.
On a cloudy day, you might think the sun has clocked out early. Not true! The sun is still out, there's just a ton of clouds blocking its radiance. While you might think the clouds are protecting you, the UV rays are just as powerful on a cloudy day as they are on a sunny day.
THE BEST SPF IS THE HIGHEST SPF.
If someone is boasting their SPF 80, let them know that it's barely different from your SPF 30 or 50. When choosing your sunscreen, opt for at leastSPF 15, but more likely than not, SPF 30 will protect you from both UVA and UVB rays. If you find SPF 50, that's ideal, but don't worry about going higher than that! Most dermatologists will tell you that anything above SPF 50 is not adding any significant sun protection to your skin.
THE MORE EXPENSIVE THE PRODUCT, THE BETTER IT IS FOR YOUR SKIN.
When you go to a store, you might see skincare products range from $40-$50 to upwards of hundredsof dollars. Most of the time, this cost difference leads people to believe that the more expensive product is better for the skin. This isn't necessarily true! That high, high, highprice tag brand often comes with a business mentality where the high price covers the packaging. The ingredients are the most important part, and you don't have to give an arm or a leg to afford it!
Now that warmer weather is rolling around, you might be more inclined to protect your skin. Even though this should be a priority all year round, better late than never! While your body might be covered up, try Jericho'sOil-free Facial Cream, which is specifically crafted to help protect your skin from harmful UVA/UVB rays.
Don't fall victim to the fake news! Keep yourself educated about your skin and keep it protected as much as you can!
Skin Care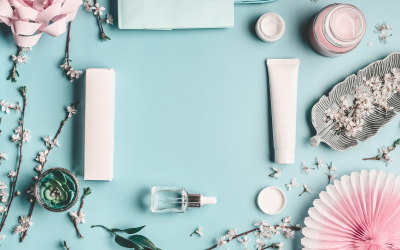 It's the season to… Multitask! While your holiday comes to a close, you can squeeze in some much-needed skincare while...