Caring for Your Skin During Chemo
It's an ugly word. It might be one of the ugliest you'd find in a dictionary. Every year, over 600,000 people in the United States die from this disease. You guessed it – cancer. There are countless different types of cancer that ravage the body and while there aredifferent methods for trying to beat this, chemotherapy is one of the most common. It might be obvious that both cancer and chemotherapy would have negative effects on the skin, but one can only hope that they can take care of their outer body while the chemotherapy helps the body internally. A lot happens to the skin during chemo, but here are a few ways to take care of your skin during your battle.
Chemotherapy is a treatment done to cancer patients for one or two reasons. One, it can be used as a way to cure the body of cancerous cells. Two, it can be used alternatively to prolong the life of the patient. Because of this, chemotherapy might seem like an easy process, but any cancer patient or survivor who has undergone this treatment could tell you otherwise! While chemo can be administered through a pill or even a shot, this is more commonly done through an IV where a series of drugs are introduced into the bloodstream.
Since cancer is a very strong disease, chemotherapy needs to be equally as strong and even stronger to help stop the cells from growing. Due to this, the treatment can have a long list of side effects. Two of the most common ones are nausea and vomiting. The list continues with hair loss as well as changes to your mouth and skin. According to the American Cancer Society, common skin issues during chemotherapy include acne, dryness, itching, peeling, and redness. For those dealing with chemotherapy, having to worry about your skin just seems like another trouble to add to your pile. Well, we'd like to help you lighten the load! If you're going through chemo, here are a few ways to care for your skin.
Dryness
During chemotherapy, the most common skin issue is probably dryness. Fortunately, there are a few ways to combat this. While we won't list allof them, we'll list the easier and most effective!
Stay hydrated. The chemotherapy is working internally to cause dry skin and you can attack the problem internally by staying hydrated. The easiest solution to this is making sure that you're drinking enough water each day which is the recommended 8 cups.
Be mindful of your soap and laundry detergent.If there's one thing that comes in contact with your skin more than anything else, it's your clothes! First, to help with any dryness, be sure to swap out any perfumed body products like soaps and lotions. Next, make sure that you're using a laundry detergent that won't irritate your skin through your clothes. The best kind would be an unscented, allergen-free kind.
Keep away from extreme weather conditions.You might think your skin is one or the other in extremely hot or extremely cold temperatures but truthfully, both conditions can dry out your skin. On both spectrums, very hot or very cold temperatures can exacerbate your skin conditions.
Moisturize your skin.Regardless of whether you're drinking water and staying away from harsh weather conditions or perfumed body products, you also have to be sure to moisturize the skin. Lotions might be too lightweight, especially if you're dealing with severely dry skin, but opting for a fragrance-free cream will help fight dryness externally.
Itching
If you have dry skin, it's likely that it can lead to constant itching. The first way to help fight this would be starting with the tips above to help diminish or get rid of any dryness. If you're still left with itchiness, you could try treating minor irritations with hydrocortisone cream that you could pick up from any pharmacy or drug store. While this might work on less severe cases, if it doesn't, you'll need to schedule an appointment with your doctor. They can prescribe other topical ointments or oral medications to help with the itchiness.
Acne
Raise your hand if you love acne! I think it's safe to say that not a single soul would raise their hands for that statement. Acne is another common side effect of chemotherapy and we're sure most people are wondering, "What can I do about it?"
Step one is to make sure you keep cleansing your skin! Often times, we're left to believe that unless our cleanser has a chemical like salicylic acid in it, it won't be cleaning the skin, but hold on now. The combination of a gentle soap and water will keep your skin clean. It's a different story if you want to start targeting the acne. While salicylic acid is a popular ingredient in acne cleansers, it can also irritate your skin further, especially if you're dealing with dry skin on top of the acne. Keeping your skin clean might be the only thing you're able to do on your own, but your doctor might be able to prescribe you with a medication to help you gentlyfight the acne.
Cancer patients are strong and frankly in a league of their own. Chemotherapy is one of the many mountains they're left to climb and the side effects are rocks trying to trip them up! Hopefully, with these tips, we can clear the rocks from everyone's way!
Skin Care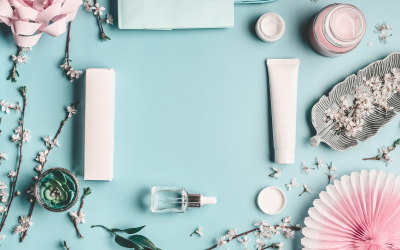 It's the season to… Multitask! While your holiday comes to a close, you can squeeze in some much-needed skincare while...