Brunette to Blonde: Steps to Keep Your Hair Healthy
The hottest celebs are having fun being blonde, so why not you, too? Here are the tips and steps you need to keep your hair healthy if you're considering lightening your look.
Photo Cred: Color by Karen
Pre-Salon
The most important step in any planned transformation is to make sure you consult a professional. Hair varies from texture to color to history, so going to a knowledgeable stylist armed with this information will help them select the best products for you and set you up with a realistic timeline. If you've never dyed your hair before, you should have a relatively shorter transition from dark to blonde.
Before you begin your first session, prepare your hair by using good products at home, such as restorative shampoos and conditioners that are focused on deeply cleaning and revitalizing your hair. This will give your locks a healthy base for the rebuilding process to begin. Jericho's Mineral Shampoo and Mineral Conditioner moisturize and restore damaged hair, injecting each strand with necessary nutrients.
Come to the salon the day of your appointment with clean, dry hair, so that your stylist can fully see your natural color and make the right recommendations.
Salon: Day One
Bring a picture with you. With something as important and potentially subjective as hair color, you want to make sure the hue you get is a perfect match. A visual aid goes a long way – as they say, a picture speaks a thousand words.
Be patient and book out multiple sessions. Transitioning from a darker tone to something much lighter takes time. You won't be able to have your hair magically transformed from brown to blonde in one appointment. This is a multiple step, gradual transition, in order to develop the color naturally, refrain from damaging your hair, and help avoid that dreaded "awkward orange."
The Next Visits
Over your next few visits, your stylist will lighten your color in sections and highlights, being strategic in how they make their choices. After each visit, you should see your hair get lighter and lighter. Prepare for anywhere from three to seven visits, depending on how dark your hair was initially.
After you've achieved your desired blonde brilliance, remember to keep up on the maintenance: you'll need to schedule touch ups for highlights, lowlights, etc.
Now that you're educated and prepared, go out there and start living your best blonde life – just get the journey started smartly. There's definitely some maintenance involved in the blonde lifestyle, but the gorgeous locks are worth it!
Skin Care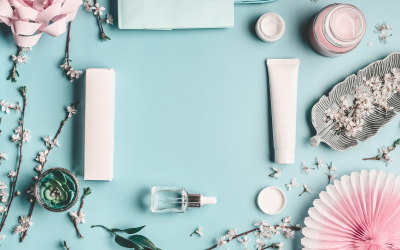 It's the season to… Multitask! While your holiday comes to a close, you can squeeze in some much-needed skincare while...