Avoiding Summer Nail and Feet Problems
Hair, skin, and nails, oh my! This is definitely a trio you hear about often, and now that it's the summer, they definitely need protection. While hair and skin usually get all the focus, the latter is usually left on the sideline, but not today! When it comes to your nails, it's a matter of protecting both your hands and feet. Instead of letting them do what they normally do, let's talk about how you can avoid the usual summer nail and feet problems.
USE CUTICLE OIL
While many people don't realize this, you probably receive more hangnails in the summer, right? Well if you do, there's a reason for that! Hangnails usually pop up when your cuticles are dry. The dry skin of this area makes it easy for hangnails to pop up and we can all agree that they're painful! Instead of letting this happen, use a cuticle oil that will help keep the area nice and moisturized.
USE TOP COAT
The summer is great, but another thing it promotes is dry nails.The heat and sun can literally suck the moisture out of anything! By leaving your nails bare, this increases the chance of you getting dry and brittle nails. Instead of allowing this to continue, make sure your nails have a layer of top coat to protect them from the sun.
MOISTURIZE YOUR FEET
Between your hands and feet, you'd probably agree that you take more care of your hands than your feet. Even though this is perhaps true, this doesn't mean that you shouldn't strive to take care of your feet. One thing that many people forget to do in the summer is moisturized! Since your feet probably spend a significant amount of time exposed during the summer, be sure to keep them nourished. We'd recommend the Jericho Foot Cream that penetrates moisture deep into the skin, to soften rough and scaled skin. 
EXFOLIATE AND BUFF
When it comes to your feet, you might notice that the bottoms and heel can often be rough and cracked. That definitely doesn't look attractive in your favorite pair of sandals. If you have dry, dead skin, it often accumulates here. Instead of going for this look, take care of it! Gently exfoliate the dry skin off of this area after soaking your feet in warm water. If this still doesn't get rid of all the dry skin, try using a pumice stone to buff off the dry skin and leave your heels looking and feeling smooth. Jericho's Foot Scrub is perfect for treating cracked, dry and tired feet. The mixture of Dead Sea minerals, natural oils and crushed Apricot pits moisturize and soften the skin.
This summer, we're all for taking care of the body. Instead of focusing solely on your arms, legs, and back like most people do, make sure you take care of your nails and feet this season.
Skin Care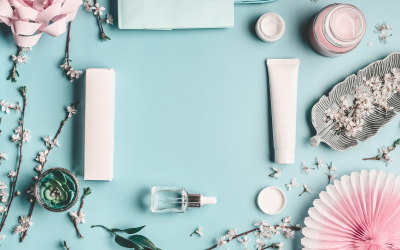 It's the season to… Multitask! While your holiday comes to a close, you can squeeze in some much-needed skincare while...