3 Tips to Freshen Up Your Skincare Routine for Summer
Spring has long since sprung and summer is upon us! Have you freshened up your skincare routine? All skin is not the same and you shouldn't expect the products that worked in the winter to work during the spring and summer months. While many people naturally experience drier and more sensitive skin in the winter, you have to adapt your skincare to prepare for the warmer weather. Need a few tips to freshen up your skincare routine? Look no further!
BUY THAT BIG BOTTLE OF SUNSCREEN
When it comes to skincare, sunscreen is something you should be using all year round. Why? Probably because the sun is constantly giving off those harmful UVA and UVB rays. During the winter, you only have to worry about your face because the colder temperatures bring extra layers. Now that it's spring, everyone's ready to show off some skin. Make sure that skin is covered in sunscreen!
While your products should have at leastSPF 15, definitely aim for SPF 30. If you're ready to protect your skin to the max, find a product with SPF 50. While you might be tempted by products that say SPF 80 or maybe even SPF 100, these products show no added benefits than SPF 50.
INVEST IN AN EYE CREAM
If you have allergies, one thing you might spend the entire season doing is rubbing your eyes. Instead of dealing with rough, dry skin or puffy bags, invest in an eye cream! If you're hoping to look fresh, lifted, and moisturized, we recommend the Jericho Lifting Eye Gel. This is going to help reduce the puffiness while also helping to moisturize the dry surrounding skin.
DITCH THE CREAM AND CHOOSE A LOTION
During the colder months, you might find that your skin is a bit drier than usual. This is common! To combat that, you might've adopted a heavy cream into your routine to help your skin stay hydrated and moisturized. Now that it's warmer, you might find that your creams now leave a filmy residue on your skin. That's probably because they don't needas muchhydration as before, but they still need hydration!
Instead of a cream, choose a lotion like the Jericho Cosmetics Body Lotion Sheer Embrace. With scents of mango, pure lilac, and orange flowers, this non-greasy lotion is just what you need to keep your skin hydrated during the warmer months.
The coming of summer always seems like a great thing! While we're preoccupied with the warmer weather and blooming of flowers, we have to be sure to pay attention to our skin! Although your skin might naturally appear better than it does in the winter, be sure to use these tips to make sure your skin is thriving throughout the spring and summer seasons!
Skin Care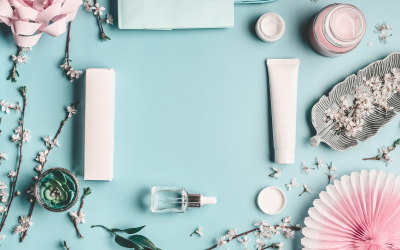 It's the season to… Multitask! While your holiday comes to a close, you can squeeze in some much-needed skincare while...