It's that time of year again, the time when all eyes are on New York City to set the tone for the upcoming season's fashions: New York Fashion Week is here! With that, we've rounded up some of the hottest trends straight from the runways that you can be assured will be dominating the best-dressed lists for the year to come.
Neon, Neon, Neon
Photo Cred: Imaxtree
Bright colors are back in a big way. Bust out the fluorescents, the highlighter tones, and everything happy again, because all eyes are on the bold and the beautiful (colors, that is.) The 1980's theme is strong throughout many trends, and it is ready for you to stand out in eye-popping hues that are loud in all the right ways. Whether these neon colors are mixed with prints or kept as solids, Fashion Week dares you not to shy away and, instead, stand out in a crowd.
Elevated Denim
Photo Cred: Stephen Lovekin & Giovanni Giannoni
We've been seeing denim on the rise again steadily for the past few seasons, but be prepared for it to officially be on trend in a big way. Designers like Alexander Wang are taking this streetwear staple to new heights in all sorts of ways. Pair your favorite boot cut jeans with a blazer for a high fashion business casual look, or layer sheer, elegant material on for an evening wear look. Jeans are a staple that will always be part of any wardrobe, but they are really being kicked up this season into must-have items. And a bonus look? Denim jackets are shaping up to be 2018's go-to layer.
Hair Accessories
Photo Cred: Getty Images
Last year saw the rise of the scrunchie again, and this year prepare for all your favorite – and some unexpected – hair accessories to be everywhere. Your once middle school favorites (stretch combs, thick elastic headbands, big clips, etc.) are the runway favorites, with chic updates such as leather and sparkle.
Sleek, Precise Hair
Photo Cred: Elle
While last season saw natural, curly, and textured hairstyles take center stage, this season is all about refinement, uniform, and being a bit military-inspired. In order to replicate these slick, exact look, shiny, sleek, and straight hair is in. For perfectly silky locks, use Jericho's Mineral Haircare Serum to restore health and increase shine.
Top Handle Bags
Photo Cred: Imaxtree/Angela Datre/Fashionista
Over the shoulder is so last year, if the Fashion Week trends are to be believed (and they are.) The short-handled purse is the look of the moment, though the style itself has wide variations. Meghan Markle, for one, has been seen favoring a more structured silhouette (a lá Strathberry,) but the only rule when it comes to this trend is the top handle itself. All colors, all patterns, all shapes are being swept up in this frenzy.
Velvet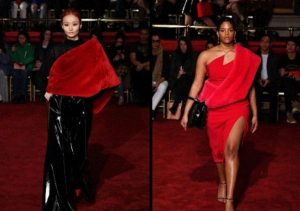 Photo Cred: Zoom
Come fall, this luxe fabric is only gaining in popularity and can be seen all over New York Fashion Week's evening wear lines. Christian Siriano played with velvet in rich, bright reds, using it for very of the moment one-shouldered drapes. The fabric itself, however, has been seen in jackets, dresses, and even hair accessories. Luxury is the name of the game this season, and velvet is the aesthetics' crown jewel.
We are so excited by the warm, joyful vibes coming out of Fashion Week. Remember: keep your look bright and tinged with poppy nostalgia, and you will look right off the runway.
Skin Care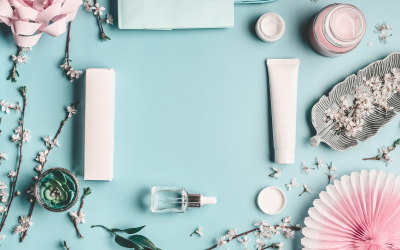 It's the season to… Multitask! While your holiday comes to a close, you can squeeze in some much-needed skincare while...